Sara Perez
RWC Event Management & Communications Coordinator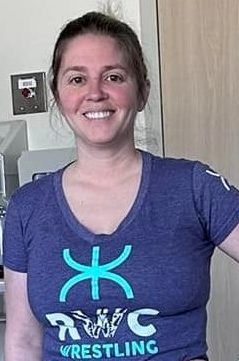 Sara was born and raised in Houston, Texas. She has participated in club and all-star sports her entire childhood to include; Fast-pitch Softball, Cheerleading, Gymnastics, Slow-pitch Softball, Volleyball & Basketball. Sara grew up with friends and siblings that all wrestled and was a constant support for them. She met Coach Tommy Perez in 2008. They have moved all over the world and are blessed with four children. Her oldest son started wrestling in Virginia and the whole family jumped into the sport with both feet. She now is the mother of three wrestlers on the Reverence Wrestling Team and assists with any tasks needed in the organization.
Sara has worked for large companies and assisted in developing and planning Chairman's celebrations, as well as coordinating business plans to further enhance Associate Morale. She is well-versed in coaching and holds a Lean Six Sigma belt. Sara has directly coached over 75 associates and promoted 96% of those associates in her previous career. Ultimately, Sara pulls from all her different experiences and her vast knowledge of sociological aptitude to help fill in any gaps necessary and ensure each and every wrestler and their family is on the right path.
As a true military spouse, Sara knows all too well how to do pretty much anything that could be required. You may see Sara around taking photos at tournaments, coordinating athletes and coaches and then sending out correspondence to the families. She has experience in many different facets of business that assist on the administrative side for Reverence. She is currently a freelance writer and content creator. Sara's true passion is helping people achieve their goals, be it children or adults, and loves that RWC is a place she can combine that passion with three of her children and her husband, Coach Tommy Perez.