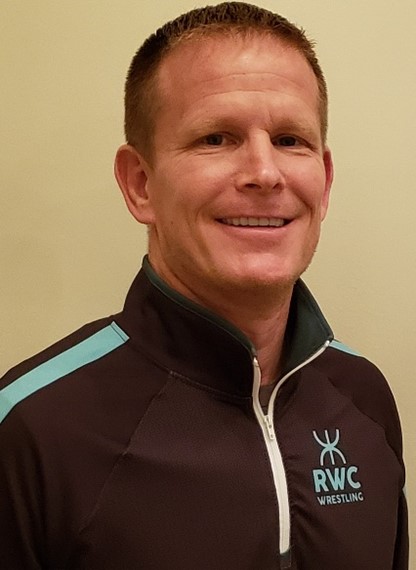 Blake Maffei
RWC Founder and Instructor
Coach Blake Maffei was raised in Caldwell, New Jersey where he began the sport of wrestling in 4th grade. Having competed in gymnastics for the years prior, Coach Maffei naturally excelled at wrestling at an early age. Blake placed top three in the state several years in a row during his middle school years and 4th in the Freestyle Grand Nationals. But it was in high school where Coach Maffei's wrestling abilities bloomed.
In high school, Maffei was a four-time Bloomfield tournament champion, a four-time District Champion and a four-time Regional place winner with one Regional silver medal his freshman year followed by three Regional golds. Coach Maffei was a three-time New Jersey state place winner earning top eight his sophomore year, 1st (Gold) his junior year, and 2nd (Silver) his senior year. Maffei also was the Garden State Games Freestyle champion in 1992. Maffei won nearly 110 matches during his high school career.
Coach Maffei was a highly recruited athlete by Division 1 wrestling programs including Rutgers, Penn State, Iowa, Lehigh, Bucknell, Cornell, Harvard, West Point, the Naval Academy, and The College of William and Mary. While being admitted to many of the schools mentioned, Maffei ultimately decided to attend William and Mary under scholarship for their outstanding education and in support of their growing Division 1 wrestling program. While wrestling for William and Mary and before the program was cut prior to his junior year start, Maffei amassed more than fifty wins including a 3rd place at the Penn State open.
While Coach Maffei's wrestling career was sound, Coach Maffei attributes the majority of his wrestling and work/life success to his coaches Ernie Monaco of The Edge Wrestling Club (The nation's first amateur wrestling club), and James Caldwell High School Head Coach, Ed Gibbons, as well as their support staffs.
Coach Maffei was one of Edge Wrestling Club's first students, working extra hours in Coach Monaco's basement while Ernie endeavored to firmly establish the concept that wrestlers required additional private club training to achieve unparalleled levels of achievement in the sport. Coach Monaco, coined "The God Father of Club Wrestling" by FloWrestling, has utilized his one-of-a-kind technique and training system to help students win more than (105) New Jersey State Champion gold medals, (12) D1 NCAA championships, and (62) D1 All American statuses (For more information visit: Honors | Edge Wrestling). Under Coach Ed Gibbons' tutelage, Coach Maffei learned that positive attitude, self-belief, humility, and mental toughness are some of the most important assets that a wrestler must learn to possess if they seek to achieve any level of greatness.
At Reverence Wrestling, Coach Maffei and RWC Instructors have been replicating a similar wrestling system as The Edge program, while optimizing the system with today's wrestling best practices. Coach Maffei's vision is for RWC to reproduce this same level of achievement in the state of South Carolina while also ensuring that RWC's students are learning positive values that help them succeed well beyond their wrestling careers.