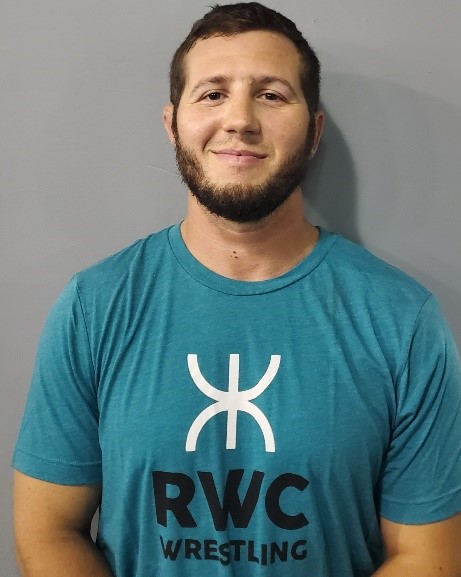 Caleb Myers
RWC Instructor
Coach Caleb Myers has been involved in wrestling for over two decades. Caleb wrestled high school in Greeneville, TN where he was a two-time state medalist.
Caleb graduated from High School and attended King College (NCAA DII) in Bristol, TN where he was a team captain, two-time National Qualifier, and Academic All-American.  During that time, Coach Myers was the head coach of Vikings Wrestling Club and coached a Freestyle/Greco Club (Team Tornado) out of the King wrestling room.  This is where he grew his interest for helping athletes improve their skills.
Towards the end of his career at King College, Coach Myers helped form the women's program as an Assistant Coach for two seasons where he had the opportunity to coach some of the biggest names in women's wrestling today (Sarah Hildebrandt, Alli Ragan, and Julia Salata being examples).
Over the next nine seasons Coach Myers coached at Science Hill High School in Johnson City, TN as an Assistant Coach. At Science Hill, the team had many top four team finishes including finishing runner-up in both the State Duals and State Traditional tournaments in 2018. Over those nine years, Science Hill Wrestling earned over 20 state medals, with five state champions. Many of those wrestlers went on to wrestle in college.
In 2015/2016, Coach Myers, was named the Tennessee Assistant Coach of the Year as well as the Southeast Assistant Coach of the Year by NWCA after the team failed to qualify for the state dual tournament the previous season, yet quickly earned their way to the state semifinals the next season.
Coach Myers recently arrived in the lowcountry and teaches at Hilton Head Island Middle School as the 7th Grade Physical Education teacher. Coach Myers enjoys time spent with his wife, Twee, and their 1-year-old daughter Addie. Twee was also a highly decorated wrestler at King, so wrestling is in their daughter's blood.  He looks forward to watching her grow, and of course, hopefully taking a liking to the sport of wrestling.